Governor of the Region:
represents the region externally
tasks that require the approval of the Regional Assembly or Council may be carried out by the Governor only after their prior approval
must be a citizen of the Czech Republic
is elected by the Regional Council
is responsible to the Regional Assembly for performing his duties
Ivo Vondrák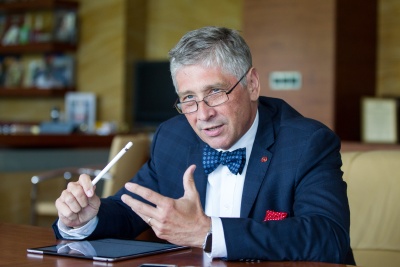 Born in Ostrava on 15th April 1959, married with no children.
He is a graduate of VŠB – Technical University of Ostrava. He was awarded a prize by the Minister of Education of the Czechoslovak Republic for excellence in study and is the founder of education in informatics in Ostrava. He was rector of the VŠB – Technical University of Ostrava from February 2010 to November 2016. Prior to this, he was Dean of the Faculty of Electrical Engineering and Informatics at the same university.
He gained a professorship in computer engineering and was a visiting professor at Montanuniversität Leoben in Austria for ten years. He worked on research programmes in the USA for Software Research Labs, Texas Instruments. He is the primary author of a project for building one of the biggest super computers in Europe – IT4Innovations. He was also a member of the Government Council for Science, Research, and Innovation between 2011 and 2016.
He has been a member of the Chamber of Deputies of the Parliament of the Czech Republic for the ANO 2011party since 21 October 2017. He is a member of the Committee for Science, Education, Culture, Youth and Sports and the Subcommittee for Science and Higher Education. He is currently the chairman of the Committee for Education of the Association of Regions of the Czech Republic Council.
Contacts:
Moravian-Silesian Region
28. října 117
702 18 Ostrava
tel: +420 595 622 173
fax:+420 595 622 129
e-mail: hejtman@msk.cz
Tato stránka je k dispozici také v češtině / This page is also available in Czech
Office hours for the public:
Monday, Wednesday: 8 am to 5 pm
Tuesday, Thursday: 8 am to 2.30 pm
Friday: 8 am to 1 pm