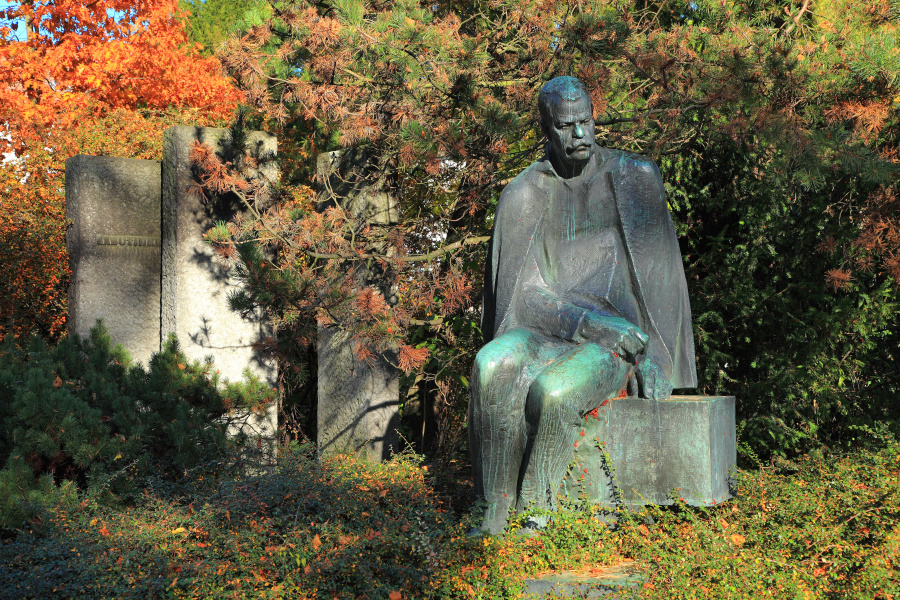 Petr Bezruč
(1867 Opava – 1958 Olomouc)
Named at birth Vladimír Vašek, he was an important poet whose work often reflected the social and ethnic problems of the then Silesia region. His most famous collection of poems are the 'Silesian Songs', specifically the poems 'Ostrava' and 'Maryčka Magdonová'.
Zdeněk Burian
(1905 Kopřivnice – 1981 Prague)
The most famous paintings of this artist display reconstructions of the prehistoric world – featuring such creatures as mammoths and dinosaurs and also prehistoric people. Apart from painting, he devoted himself to illustrations. His pictures can be found in books by Jaroslav Foglar, Jack London, Eduard Štorch and Jules Verne.
Sigmund Freud
(1856 Příbor – 1939 London)
The world-renowned psychologist lived in the region for three years, before moving to Vienna. He engaged in research of neurosis, human behaviour, experience and mental development.
Leoš Janáček
(1854 Hukvaldy – 1928 Ostrava)
This world-renowned composer reflected folk motifs from Moravia in his work. His most famous operas include 'The Cunning Little Vixen', 'Šárka' and 'Jenufa'.
Johann Gregor Mendel
(1822–1884)
A native of Vražné u Oder, he was the founder of modern genetics and his paper "Experiments on Plant Hybridization", was translated into all European, as well as other world languages after 1900.
Frantisek Palacky
(1798–1876)
A native of Hodslavice, he is said to be the founder of modern Czech historiography, as well as being a politician and writer.
Jaromir Nohavica
(* 1953)
A native of Ostrava, he is a folk singer-songwriter, lyricist, librettist, composer and guitarist. He also plays the Helicon. His songs are largely popular because he sings about people and ordinary life, with epic lyrics, often sounding even a little ironic. Nohavica likes to use the local dialect of Ostrava and the Těšín area.
Office hours for the public:
Monday, Wednesday: 8 am to 5 pm
Tuesday, Thursday: 8 am to 2.30 pm
Friday: 8 am to 1 pm